Many travelers ask why the prices for their Punta Cana Airport Transfers differ so much when quoting transportation to different resorts, here's the reason why.
There are a few resort areas within Punta Cana. Punta Cana is full of beaches that stretch for miles.
Though the region is known globally as Punta Cana, there are many locations with different resorts, spanning larger distances from the Punta Cana International Airport PUJ. You can find rates and book transportation in Punta Cana here.
The name that is known for the area is Punta Cana, hence most resorts use the name Punta Cana as their location…even when they're not located there.
So why do they do this? They do this to associate with the known name, even though they might be located up to 1.5 hours away from the original Punta Cana area.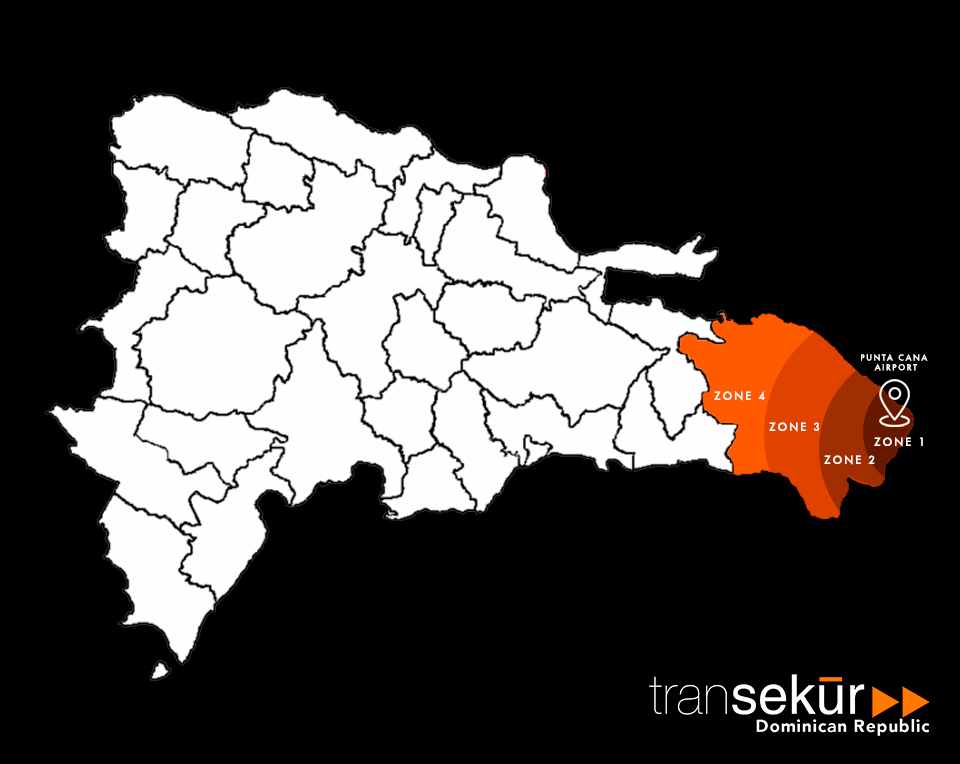 Zone 1: Punta Cana and Cap Cana
Punta Cana and Cap Cana. The most popular resorts located in this area are Hyatt Cap Cana, Secrets Cap Cana, Sanctuary Cap Cana, Eden Roc Cap Cana, Margaritaville, The Westin Punta Cana and Tortuga Bay. There is also a hotel – mostly for business use – Four Points, that is located less than 1 mile from the airport, but remember, the best quality transportation for Punta Cana International Airport can be found here.
Zone 2: Bavaro, Cabeza de Toro and Macao
The largest town within the area is named Bavaro, you will also find Cabeza de Toro, Macao and El Cortecito which are failry known as well. Popular resorts in this area include Hard Rock Hotel & Casino Punta Cana, Majestic Elegance, Majestic Colonial, Majestic Punta Cana. Big complexes like the Riu, Melia, Iberostar and Barcelo are among the largest resorts located in Zone2, or the Bavaro area.
Zone 3: Uvero Alto
Uvero Alto is the area we can name as Zone 3. Uvero alto is about 30 miles north of the Punta Cana International Airport, which with traffic is about one hour away from the airport. This area includes resorts such as: Excellence El Carmen, Excellence Punta Cana, Breathless Punta Cana, Nickelodeon Punta Cana, Sensatori and Dreams Punta Cana.
Zone 4: Bayahibe, La Romana and Miches
Spanning up to 60 miles away (about an hour and a half drive) are Miches, located north of the PUJ Airport, and Bayahibe and La Romana, which are located about 50 miles west of the airport.
Punta Cana Airport Transfers prices will range from anywhere between $40 to $200 depending on the vehicle type and distance from the Punta Cana Airport.
As it is with airline tickets, the season of the year also dictates pricing. While in low season (May-October) you are likely to find lower prices, prices will be higher and availability will be scarce between November and April, which is when most of the tourists come travel to Punta Cana.
Whatever your choice of season or resort is, make sure you book your transportation in advance. You can get prices and book here.
You can also try the Punta Cana Airport VIP Fast Track – or Fast Pass -, so you can skip customs and immigration lines, and wait for your luggage at the VIP lounge.
It's safe to leave the resort and get to know the local areas in Punta Cana.
Punta Cana is one of the safest areas in the Dominican Republic and one of the safest resort areas in the Caribbean. While as in many countries there are high risk areas, if you book safe and reliable transportation from Punta Cana Resort, it is very difficult that something could happen.
Here you can find a full article about safety outside Punta Cana resorts.
Make sure you start your vacation right by booking transfers from punta cana airport now.
PUJ – Punta Cana International
Book transfers to and from these popular resorts:
Hyatt Ziva Cap Cana
Hyatt Zilara Cap Cana
Hilton La Romana
Eden Roc Cap Cana
Excellence Uvero Alto
Excellence El Carmen
Breathless Punta Cana Resort & Spa
Secrets Cap Cana
Hard Rock Hotel & Casino
Majestic Colonial
Majestic Elegance
SDQ – Las Americas International
Book transfers to and from these popular resorts:
JW Marriott Hotel
Intercontinental Santo Domingo
Luxury Bahia Principe Bouganville Don Pablo Collection
Casa de Campo
Hilton La Romana
Punta Cana Resorts
Uvero Alto Resorts
Bayahibe Resorts