Airport Transfers in every international airport in Dominican Republic
Our vehicles and drivers are available for all domestic and international airports in the Dominican Republic. The main airports located in Santo Domingo are SDQ (Las Americas International Airport) and JBQ (La Isabela International Airport). Other important destinations in the Dominican Republic are: Punta Cana (airport code PUJ), Puerto Plata (airport code POP) and Santiago (airport code STI) as well as Samaná (airport code AZS), Las Terrenas Catey Airport (AZS) and La Romana (airport code LRM).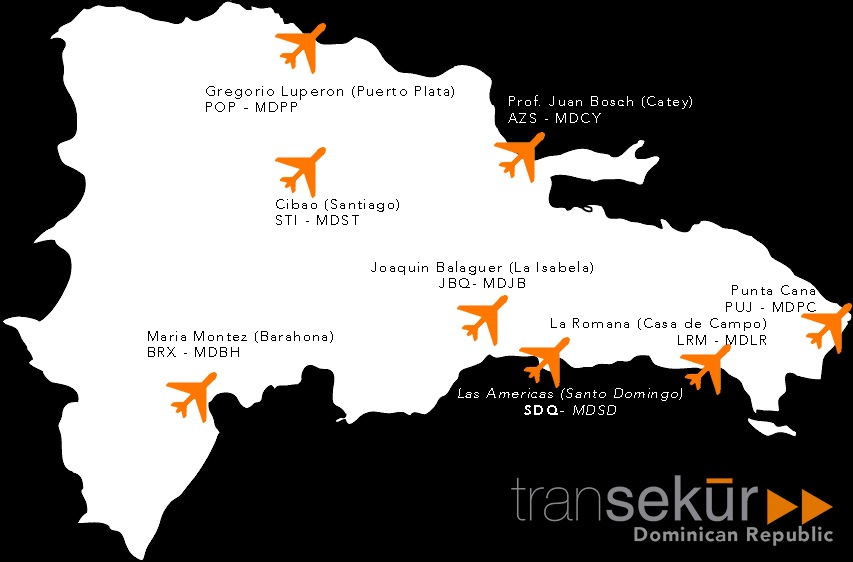 If you're already in the Dominican Republic and would like to arrange a service at your hotel or any other location, click here to book now and live the Transekur experience.
International Airports in the Dominican Republic
City — ICAO Code — IATA Code — Airport name
Barahona — MDBH — BRX — María Montez International Airport
La Romana — MDLR — LRM — La Romana International Airport
Puerto Plata — MDPP — POP — Gregorio Luperón International Airport
Punta Cana — MDPC — PUJ — Punta Cana International Airport
Samaná — MDCY — AZS — Samaná El Catey International Airport (Dr. Juan Bosch)
Santiago de los Caballeros — MDST — STI — Cibao International Airport (Santiago International)
Santo Domingo — MDJB — JBQ — La Isabela International Airport (Dr. Joaquín Balaguer)
Santo Domingo — MDSD — SDQ — Las Américas-JFPG International Airport (Dr. José Fco. Peña Gómez)
Domestic Airports in the Dominican Republic
City — ICAO Code — IATA Code — Airport name
Constanza — MDCZ — COZ — Constanza Airport
Dajabón — MDDJ — DAJ — Dajabón Airport
San Pedro de Macoris (Cueva) — MDSP — SPM — Cueva Las Maravillas Airport
Monte Cristi — MDMC — MTC — Osvaldo Virgil Airport
Pedernales — MDCR — CBJ — Cabo Rojo Airport
Samaná — MDAB —- EPS —- Arroyo Barril International Airport